Cycle touring routes in NSW are going through boom with the increased popularity of the Central West cycling trail and now new routes like the Orange Villages Bicycle Trail (affectionately known as the 'Orange 360').
Despite lagging a little behind more established routes in Europe, NZ and Victoria, it's great to see a number of regional towns make an investment to create fantastic touring routes in NSW. The Central West Cycle Trail famously started with a local walking group getting frustrated with the slow pace of state and local government approvals and just going out and marking a route with a few hundred dollars worth of stickers and a very basic website.
The Orange 360 route by contrast is coming out of a bigger slicker concerted push, linking cycling, wineries, and hospitality across the region.  It's been really great to see local communities getting on board in terms of cycle friendly accommodation, food options and lots of commercial tour operators offering supported touring options.
Shop crew were out scouting the Central West trail last year (our full report here) and over Easter this year we headed out to explore the new Orange route.
The Orange 360 is, as the name suggests, a 360km cycle touring route centered around Orange in the NSW mid-west. It has route options that make it friendly either for road bike or gravel/MTB riders and passes through a number of smaller towns making it possible to ride entirely staying in accomodation. While we love the joy of cycle touring, fully self-supported with a tent and remote camping, there is certainly a seductive joy about jumping into a hot shower and a nice warm bed at the end of a big day of riding.
This availability of accommodation also makes the route superbly suited to e-bike touring, being able to recharge overnight and in some cases even over lunch as many days had a cafe stop on route.
Moustache Bikes Australia were kind enough to lend us a Moustache Xroad 3, a fantastically capable touring ebike that in fact was developed specifically for the rail trail market in NZ. This bike won Choice magazine's shoot out of "best E-bike" and has been incredibly popular. It's perfectly suited to touring as it runs a larger 625Wh Bosch battery giving riders a range of anywhere between 50-100+kms. Wider tyres, a suspension fork and suspension seatpost means it's a supremely comfortable bike on moderately rough terrain, the easily adjustable stem also helps with tweaking your riding position which is critical for a long day in the saddle.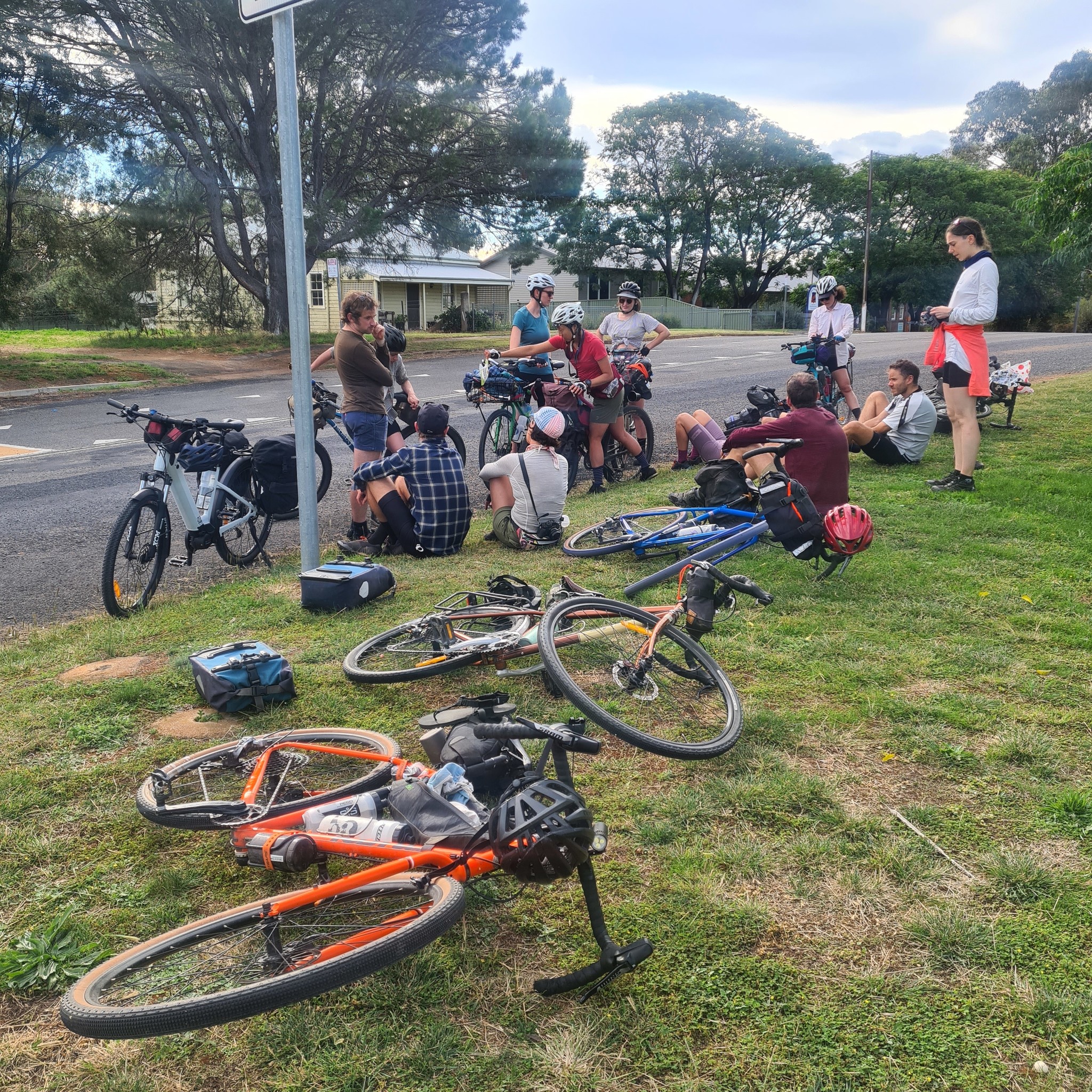 The number of small towns on the Orange 360 route means you can customise an itinerary to suit your ideal daily distance. We rode it over 4 days averaging 80-95kms per day. Our test rider was 70kgs and moderately sporty, they had about 12kgs of load in two panniers (including a spare battery of 3.5kgs which we never had to use) and finished most days with one or two bars of battery left. That was predominantly riding on Eco or Tour mode, expect the range to reduce if riding in Turbo or Sport or if the rider is significantly heavier.
Despite the fact that we lugged a second battery, I would say this doesn't make sense, we never needed it and even if we had ridden in the higher modes we could easily have recharged the battery during the longer days at a cafe. Investing in a Bosch 6A "Fast Charger" would be a better bet if worried about range. A fast charger will do just under a 50% charge in an hour, a perfect opportunity to relish a relaxed long lunch. It's always hard to work out the exact range you will get as it depends so much on weight, terrain, road conditions and of course the mode of assistance selected. We recommend having a dive into the Bosch Range calculator.
Hills are generally the area where the greatest demand is put on the battery capacity and if you were looking for a first foray or looking to test the range of your bike, the Central West route is significantly flatter so may be a better first ride.
All in all it was a fantastic experience, our test rider described riding the Moustache E-Bike as "life changing". They loved being able to ride a moderately challenging route and arrive at the end of the day feeling still relaxed, a little tired but by no means exhausted. Riding up a steep incline, steadily spinning and being able to have a nice chat with friends riding alongside was also a wonderful experience. After about the first five minutes nobody cares that different folks are on different bikes and it's a really amazing way to keep a group of riders of different fitness levels or abilities together and enjoying the experience.
The Orange 360 route also caters to this with optional road detours which avoid some of the rougher or hillier sections. As a group we generally stuck together but on some days part of the group opted for shortcuts or detours to head to a cafe or pub, rejoining with the other group who wanted to ride further.
For more suggestions on E-bike friendly cycle touring routes feel free to email or ring the shop.
We have The Moustache XRoad bikes in stock now for test rides and are happy to customize a bike's setup for any trips you may have planned.