The Rohloff Speedhub is a marvel of German engineering. With 14 evenly-spaced gears packed into an enclosed rear hub, it provides a huge gear range while offering unmatched durability and reliability.
The Rohloff is designed to be able to be retrofitted to the vast majority of bikes. We often have people bring their bike in to have a Rohloff installed, in place of the derailleur-based gear system that the bike came with.
So which is the right Rohloff for your bike? The first thing to know is that there is really just one Rohloff, it's just configured differently to fit into all the different sorts of bikes that exist.
Spoke holes
Before everything else, make sure your Rohloff has the right number of spoke holes for the rim you want to use. Most of the time this will be 32 holes, but some rims have 36 holes.
Rohloffs aren't produced in any other hole numbers, so if your current rim doesn't have 32 or 36 spoke holes, you'll need a new rim. If your existing rim is old, it can be a good time to replace it while we're installing the Rohloff.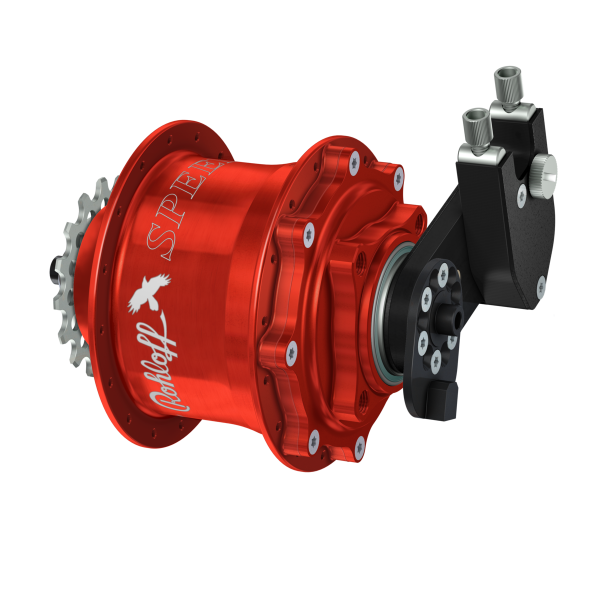 Above: The Rohloff Speedhub
Axle type
Most Rohloff hubs that we fit come with a hollow axle, to be used with a quick-release (or allen key) skewer. They're designed to be used with a rear frame that measures 135mm, so they'll fit the vast majority of bikes produced in the last 30 years. The Surly Ogre, Tumbleweed Prospector, and Surly Troll are all examples of bikes that work best with this axle type.
The Rohloff is also available with a solid axle with nuts, however this is less popular as it doesn't provide as much clamping force as a quick-release skewer.
If your bike uses a rear thru-axle, you'll need to use a special Rohloff model, the A12. Your frame needs to be measured up with a special kit here at the shop, and Rohloff will specially produce the fittings for the hub to fit into your frame. The A12 hub has the same internals as the regular hub, so it's not better than the regular Rohloff.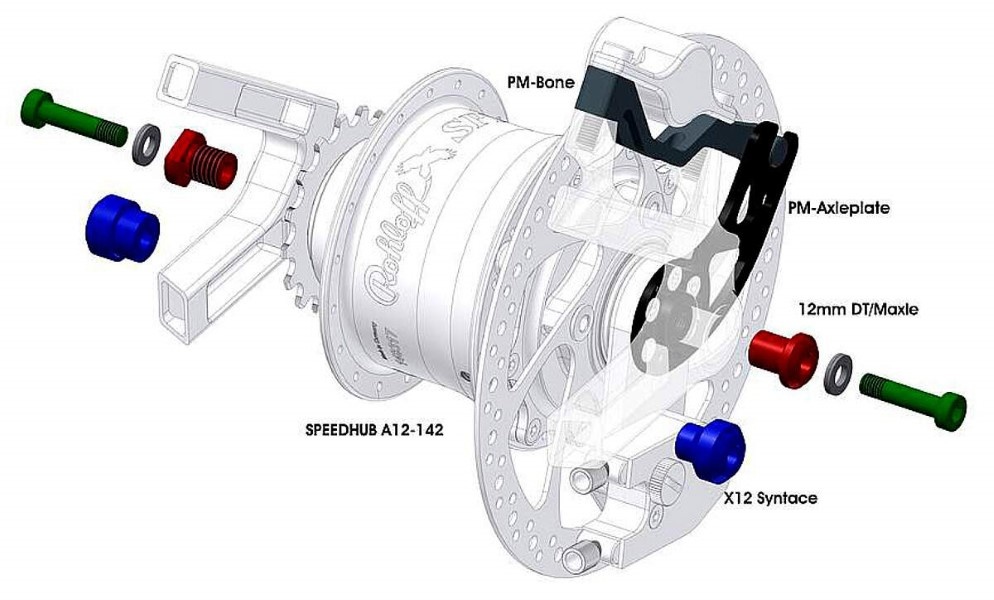 Above: The Rohloff A12 uses special bolts and inserts to fit the Rohloff into a thru-axle frame.
Torque arm / axle-plate
All internal gear hubs produce torque, caused by the internal mechanism working against the axle. This means that, in order to stop the axle from rotating, some kind of torque arm is required.


Above: OEM, OEM2 and Standard axle plates
If your frame has been specifically built for a Rohloff, with an elongated left-hand dropout, you can use an OEM axle plate.
If your bike doesn't have a special Rohloff dropout but it has IS-mounts for disc brakes, you can use the OEM2 plate, along with a Monkeybone disc brake adapter. If your bike frame has post-mounts for disc brakes, you can use a PM axle plate with a PM bone brake adapter.
If your bike doesn't have disc brakes, you will generally need to use the Standard Plate with a long torque arm that affixes to the left-hand chainstay.
Brake type
Pretty much all of the Rohloffs we sell have a disc-brake shell. That's because, even if you don't have disc brakes right now, it's good to future-proof your purchase (it's much harder to swap it later).
Rohloffs use a special 4-bolt rotor attachment, so you'll need to buy a specific Rohloff rotor. They come in 160, 180 and 203mm for Shimano, and 160 and 180mm for Magura.
Cog type
Rohloff hubs can be used either with a chain drive, or with a Gates carbon belt drive. If you're using a Gates belt, you'll need to fit a special carrier that has a lockring, to attach the Gates cog securely.
Chain/belt tensioning
Most bicycles are designed with the idea that a rear derailleur will take up slack in the chain, keeping it tight on the cogs. The Rohloff uses a single front and rear cog, so it relies on another method of tensioning the chain or belt.
If your frame has an in-built method of tensioning the chain or belt (such as an eccentric bottom bracket, or sliding dropouts) then you can use those. If not, you'll need an additional solution, such as the Rohloff chain tensioner, to keep tension on your chain. There's no aftermarket product to tension a Gates belt on a frame that doesn't have a mechanism to move the bottom bracket or rear axle.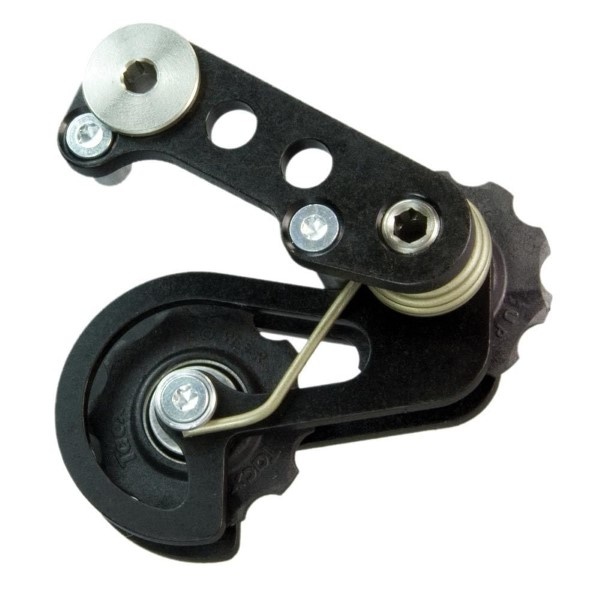 Above: Rohloff chain tensioner
Axle width
If you're riding a fatbike, you're in luck - Rohloff hubs are produced in both of the popular fatbike widths. Rohloff hubs are a popular upgrade for people with fatbikes because these bikes are often ridden in sandy conditions, which chew through derailleur systems really quickly, and clog up the shifting.
You can get a Rohloff in a 170mm (177mm thru-axle) or 190mm (197mm thru-axle) widths.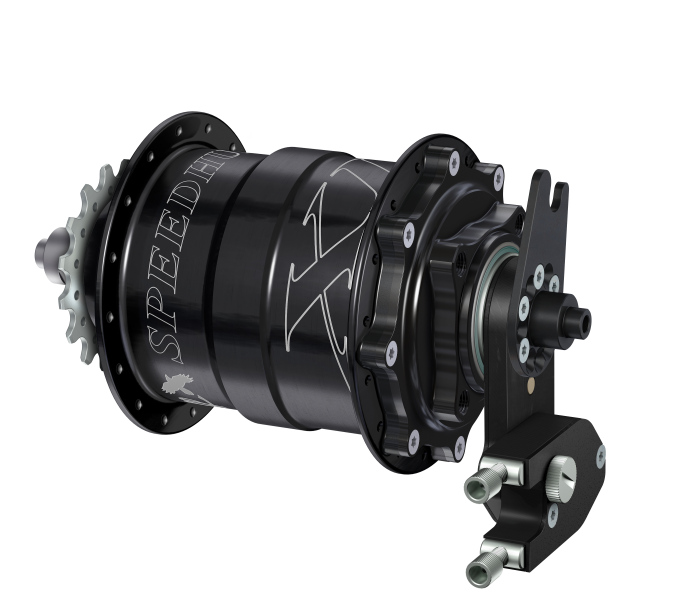 Above: Rohloff XXL hub, for fatbikes
With all of these configuration options, there's a Rohloff for every bike.
Are you interested in fitting a Rohloff hub to your bike? Give us a call, drop us an email or visit our store to find out what's possible.