The Brompton folding bicycle is such a novel design that securing it requires careful consideration. Given its small size when folded, chances are you'll be able to bring it inside most of the time, but in our experience there are occasions when locking it up is unavoidable. Here are our thoughts.
The U-Lock
This is what we'd normally recommend for a non-folding bicycle lock - they're small, secure, and can even be light (in the case of the Abus Granit). However, it's hard to get a folded Brompton close enough to many bike racks for a U-lock to reach. There's nowhere on the frame to secure the lock when it's not being used, though you can always pop it into your Brompton luggage.
The Bordo
The Abus Bordo locks use an innovative folding design that makes them the perfect companion to the Brompton. When not in use, they can be stowed on the top tube, where they're out of the way. They're longer than most U-locks, so they can fit through both the frame gusset and seat rails.
Cable locks
These locks are notorious for being easy to cut. As a general rule, if you can see the cable, it's not secure enough. However, there are some armoured cables that offer better security, like the Abus Centuro (keyed) and Raydo Pro (combination) - and they're nice and light. However, they're still trickier to store on a Brompton frame than a Bordo lock.
Chain locks
These are heavier, more secure versions of cable locks. Because they're very flexible, you can wrap them around the handlebars for storage.
Notes on locking technique
Given enough time and tools, a thief can dismantle a locked bicycle - so the first tip is to lock it somewhere public.
There are ways to make the components harder to swipe, and many of them are already fitted on the Brompton. Quick release wheels are a common target - since the Brompton has allen key fittings on the skewers, they're less likely to be removed by a passing thief. The Brompton seatpost is flared at the bottom, so you can't remove it without removing the saddle clamp (which is secured with an allen key).
Plus, if it's folded the thief has to know how to unfold it again if they want to ride it away!
If you have a longer lock, it can fit through both wheels and the frame gusset. Here's a couple of images showing how this can be accomplished with the Abus Bordo, and a long U-lock.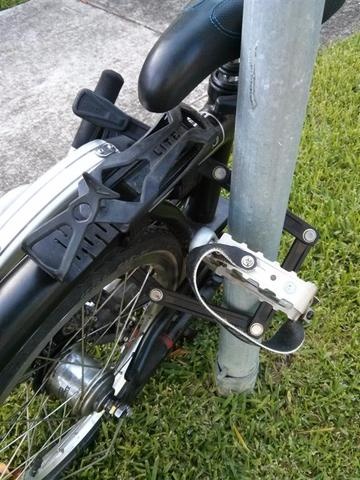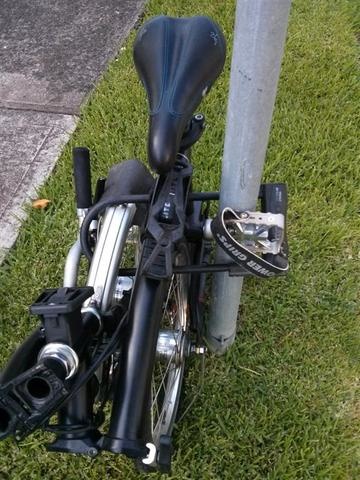 If you have a Brooks saddle, a flexible lock like the Bordo can fit through the saddle rails as well as the frame gusset, which makes it much harder to unfold.