We started importing Omnium Cargo bikes into Australia in 2014, and have built and serviced a huge number of bikes since then. We're really excited that Omnium Cargo is now getting its own importer and will be more widely available.
Let's talk about the things we have learned to love about the bikes over the years.
1. It's a bike that's fun to ride loaded or unloaded
Cargo bikes are often seen as hyper-specialised bicycles, designed just for load carrying and not for general transport/recreation. However the Omnium, being light, nimble and genuinely enjoyable to ride, means it can also be a daily commuter, grocery-getter and even long ride bike (more on that below) and not just used for that big Bunnings trip or the school run.
Other cargo bikes we have ridden, such as the Bullitt or Urban Arrow, we could never imagine riding unless necessary as they get low-speed wheel flop, are heavy, and have the turning circle of a bus. We have a number of customers who use the Omnium cargo as their all-purpose everyday bike, rain hail or shine, loaded or unloaded - we see them out racking up kilometres riding the bike.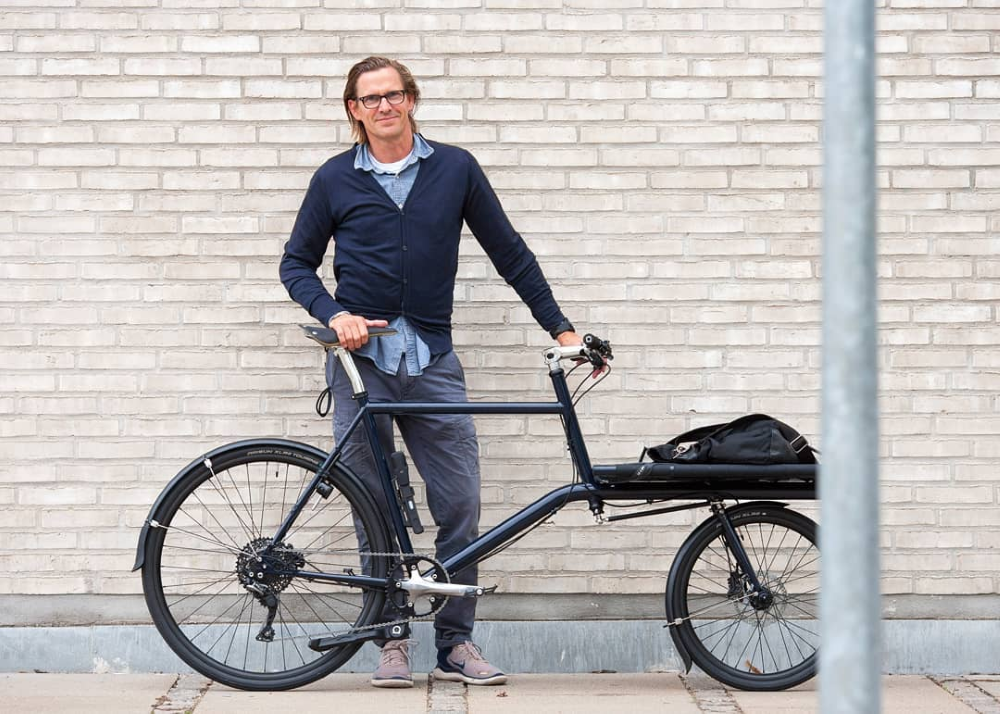 2. It comes in different frame sizes to suit different riders
The vast majority of cargo bikes on the market come in a "one size fits all" frame size. If you are in the midddleish section of the height ranges then that can work okay, but it tends to result in bikes that feel too big for smaller riders and cramped for larger riders. We sometimes do recommend compromising a little on frame size so that a partner or friend can ride the bike, e.g. a couple where one is 6" tall and the other is 5"8 could happily share a medium.
It also comes down to whether you want to compromise on fit. You might feel very relaxed about the fit and just need it to work for short trips. Most Omnium models come in small, medium, large and many includes XL and XS options as well.
For lots of our customers the proper different sizes in the Omnium range are an absolutely blessing, really allowing them to actually be comfortable and ride efficiently on a cargo bike.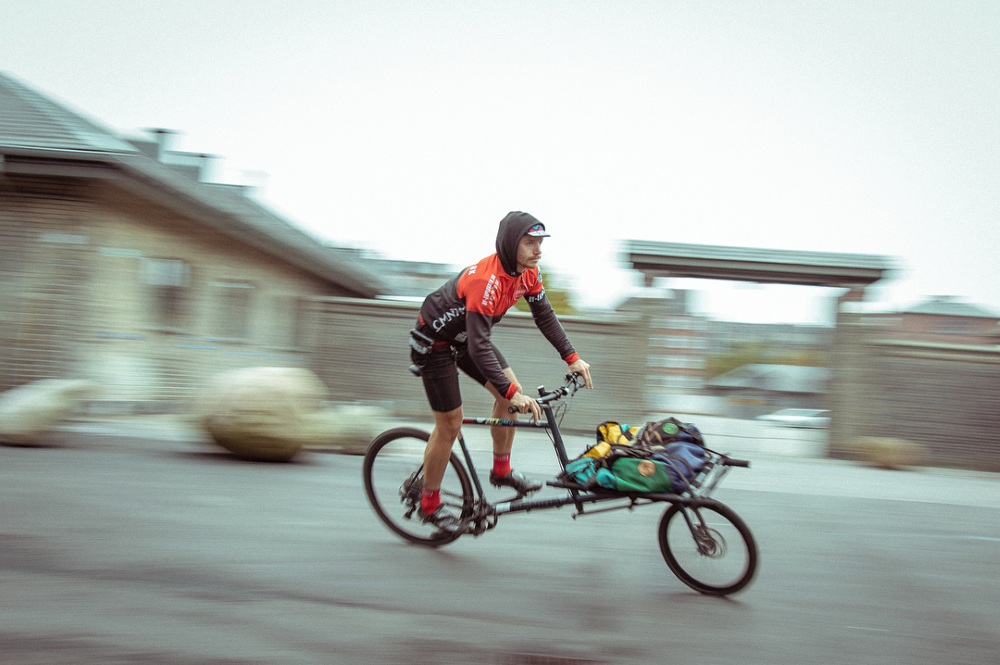 3. It comes in different cargo capacity versions
The Omnium range includes the full size Cargo, the slightly smaller MiniMax and the compact Mini. The two larger sizes share the same platform size with just a smaller wheelbase on the MiniMax, while the Mini is a smaller platform and a extremely compact wheelbase.
It's great to have options as one person's version of a cargo bike might be quite different from another.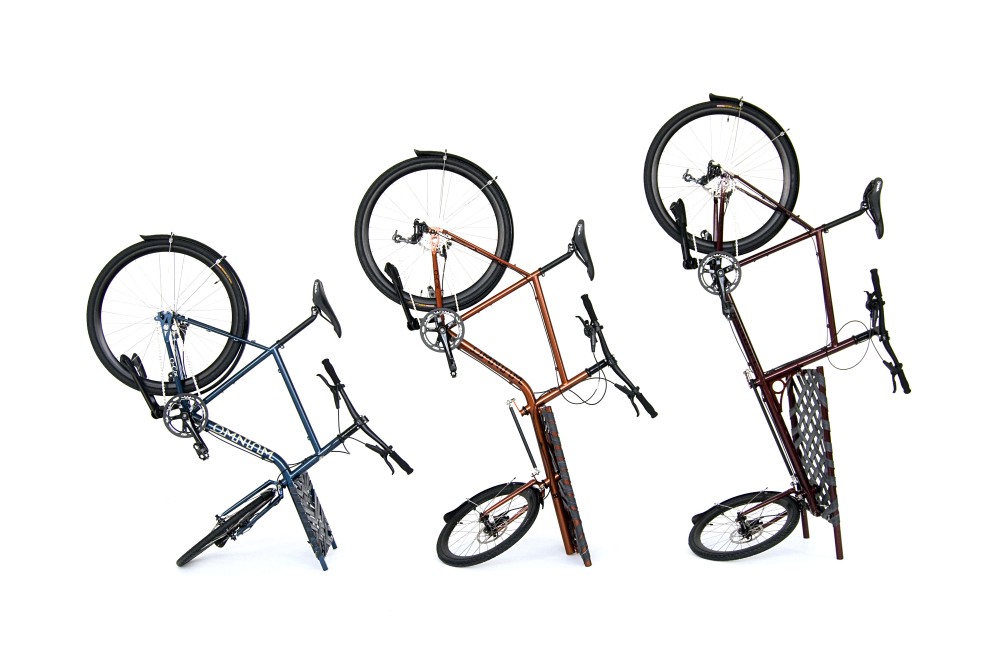 4. It's easy enough to carry up stairs
In a magical bicycle utopia we would all have level lock-up garages full of bikes, and the separated bike paths would take us on some safe, gentle, easy rides to wherever we wanted to go. (This place is actually real and called Copenhagen and everyone rides heavy single-speed bikes that they never have to ride up hills, or carry up six flights of stairs.)
The reality of riding in Sydney is disjointed cycle paths, train stations without lifts, random sets of stairs and apartment dwelling. Want to ride over the Sydney Harbour Bridge ? Oh that involes a lot of stairs. Want to Hop on the train at Redfern or Central station ? Yeah a whole lot of stairs there too! In this real world, having a cargo bike that's light enough to carry up a flight of stairs makes it actually possible to explore the city and plan trips without fear of getting stranded.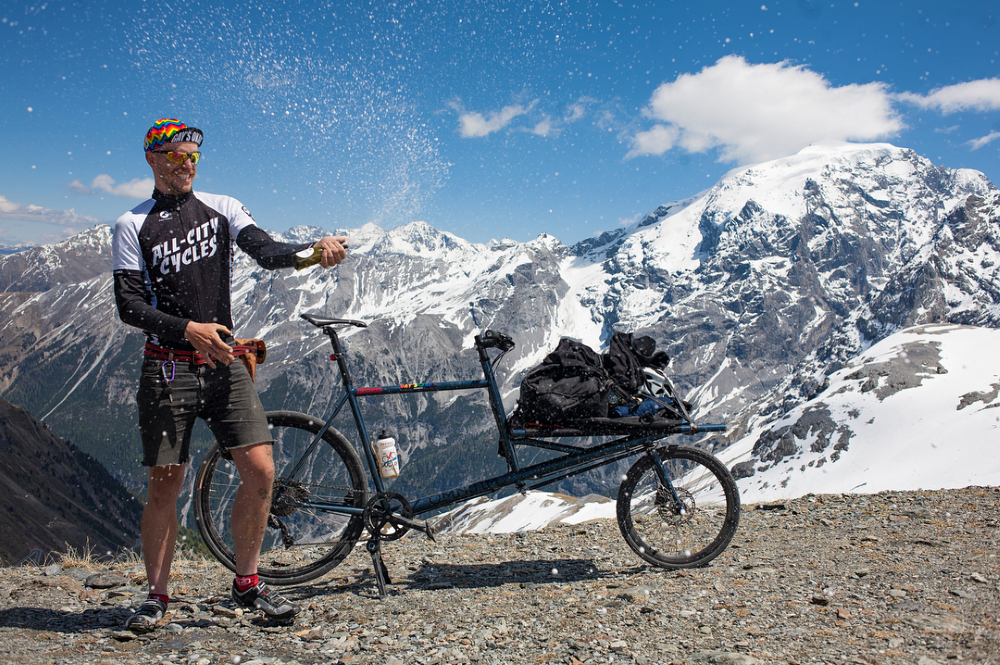 5. You can take it touring or bike packing
The joy of a cargo bike like the Omnium is it opens up all sorts of ride possibilities and the new Wifi frames with 55mm tyres just takes that to another level. We actually took the original Omnium Cargo with the older racing BMX front wheel (451x28) on a 200km gravel loop of the Hawkesbury. It was wild being able to throw camping gear and food in the front without worrying about making it super neat or compact. But the small contact path on the front wheel made it a little bit wild descending fast on loose gravel.
The new 55mm tyres of the Wifi feel infinitely more planted and even open up options for bikepacking and single track adventures. You can run a small knobbly mountain bike tyre on the front and the thru axle setup gives extra confidence.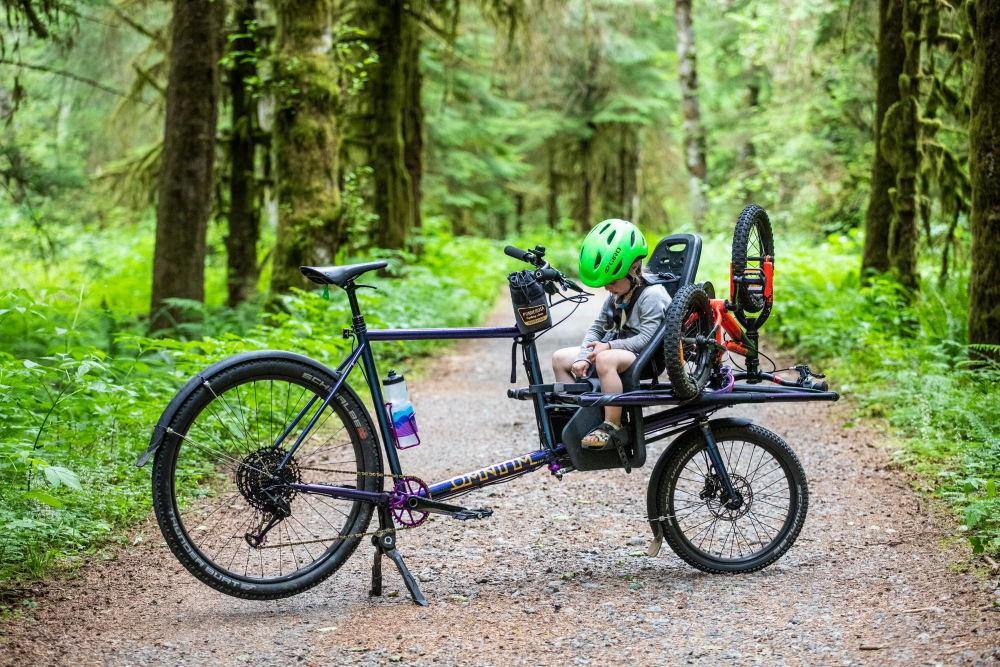 6. It carries kids, dogs and cargo with ease
They way we think about it, an Omnium cargo bike is just as well suited for carrying kids, dogs or cargo. The versatility of the flat platform is such that it can be changed and tweaked to suit your needs. Many of our customers sometimes even find themselves doing all three simultaneously!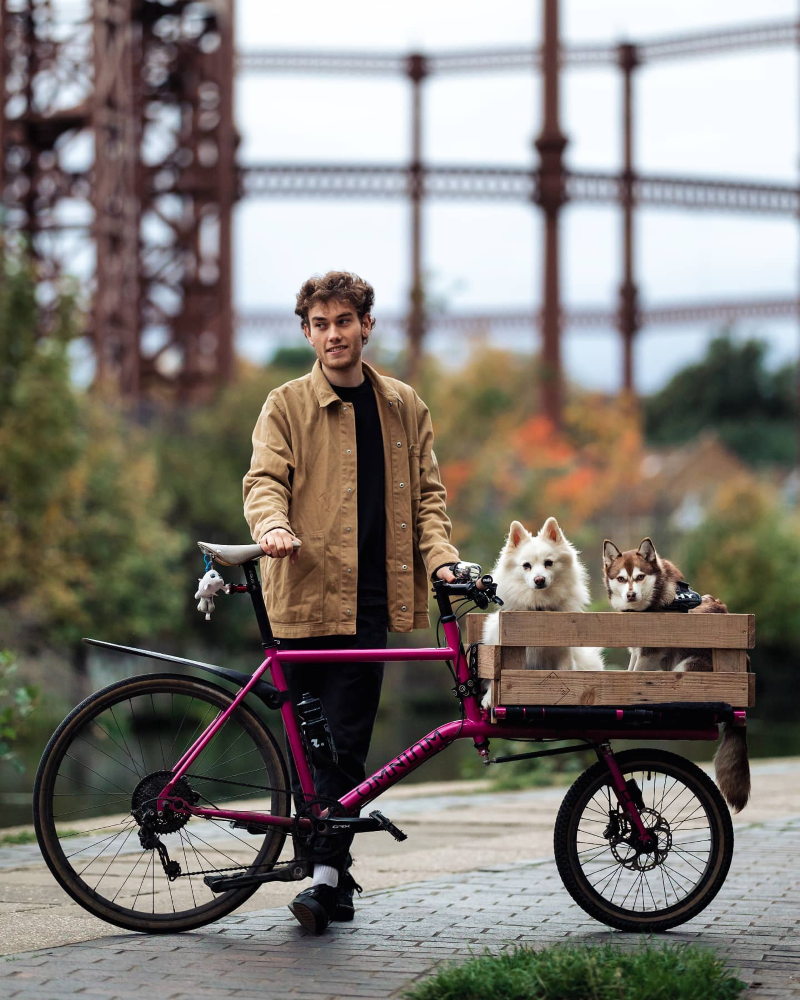 7. It's available electric or non-electric
Let's be honest, the electrification of bikes has been an absolute godsend for making transport cycling and utility cycling accessible to a broader than ever range of people of different ages, abilities, and temperaments, and across all sorts of use cases and topographies. No longer does it require herculean strength to get back up Bondi Road on a 35c summer's day with three screaming childen and a pile of wet towels in the front of a cargo bike.
However just because electric is good for some people doesn't make it right for everyone. And for lots of riders they actually don't want electric and it's actually become hard very hard to buy a non-electric cargo bike.
For some customers it might be that they have a simple flat route and electric is unnecessary, or they simply enjoy the work of riding a cargo bike. A courier riding all day in the city delivering light but bulky flowers might appreciate a non-electric bike that never runs out of charge. Another rider might find themselves delivering archive boxes full of legal ducuments and wishing for electric assist under 80kgs of paper.
We have a customer who we built an Omnium Cargo for a few years back who's now getting an electric version of the bike. They loved every part of it but just wanted the help on the hills. Whichever way you want to go, it's great to have a bike that's available in both electric and non-electric versions.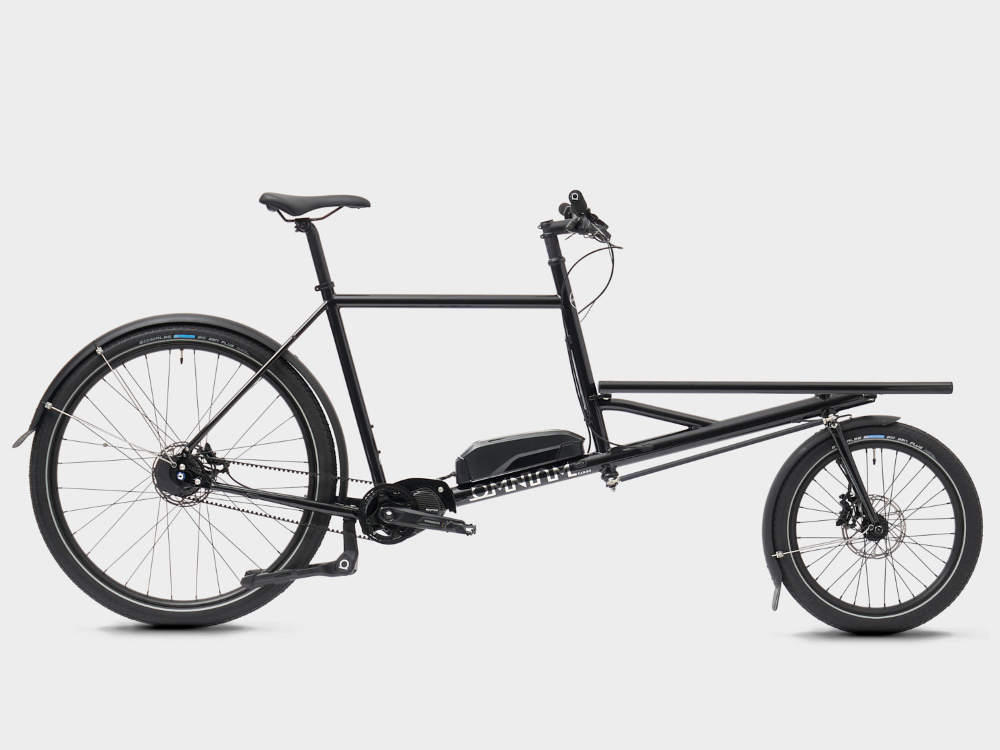 8. It's fast
A cargo bike doesn't have to be a lumbering behemoth that can barely make it across town. The Omnium is fast and agile and we have the results to prove it. A few years ago Jimmi the owner of Omnium entered a 24 time trial competition on an Omnium. He made a few tweaks like drop bars and carbon wheels and then rode 664kms! That's an average speed of 27.6kms per hour, solo, assuming no break time, and realistically he travelled a fair bit faster given he needed time to eat and sleep.
Shop mechanic Ollie Cashman took an Omnium Cargo on the Newcastle Overnight, riding 175kms through the night and by all accounts enjoying every minute of it. Another time we took the shop Omnium on an 200km overnight bike tour with a pile of camping gear and a five year old sitting on the top.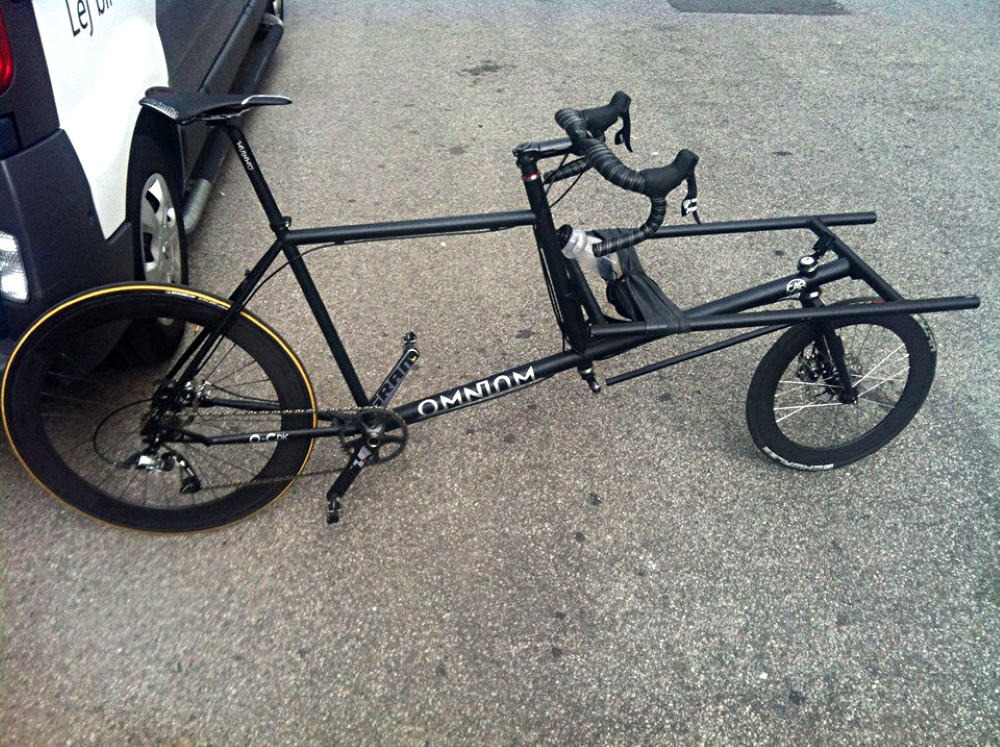 9. It comes in amazing colors
Most cargo bikes tend to come in just one or two colour options and play it safe, say black and white, or blue. Honestly when we saw the new Omnium colours it was like someone had been allowed to run riot at the paint factory. Blurple is a wild blue purple glitter colour that has to be seen to be believed, black's always an option for the stealthy ninja riders and there are many more including Dusty Blue, Diablo Red, and Forest Green. The extended frame of a cargo bike means there is simply more real estate to paint and that's why it's so exciting Omnium went with a bold palette!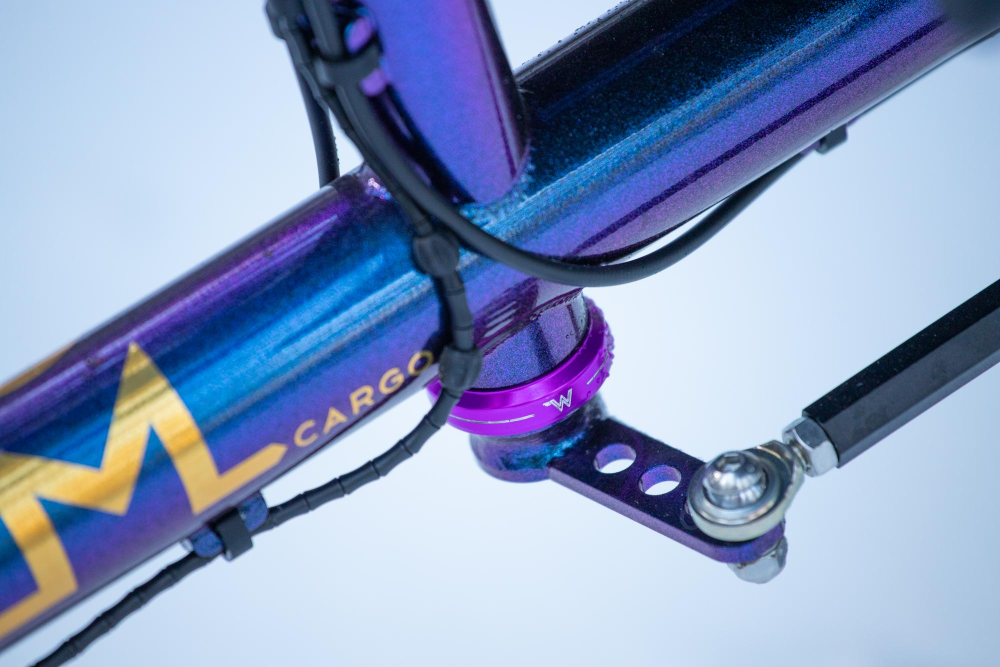 10. It's modern and modular
Cargo bike designs have been around for a long time but that doesnt mean there isn't a place for modern bike tech. The Omnium bikes come with modern thru axles that mean the wheel-frame interface is stronger. This means no chance of moving the wheel in the dropout under heavy acceleration or braking. It also means less issues with misalignment when fitting and removing wheels, it can only go in precisely one spot.
The modern adjustable dropouts at the back also mean if you want to change the drive train to a singlespeed or an internal hub gear its easy. The split in the frame also allows for a Gates Carbon drive. The Omnium in stock form also comes with high quality hydraulic disc brakes and a tough reliable 1x drive train, again taking the best features of modern bike tech for a reliable and safe cargo experience.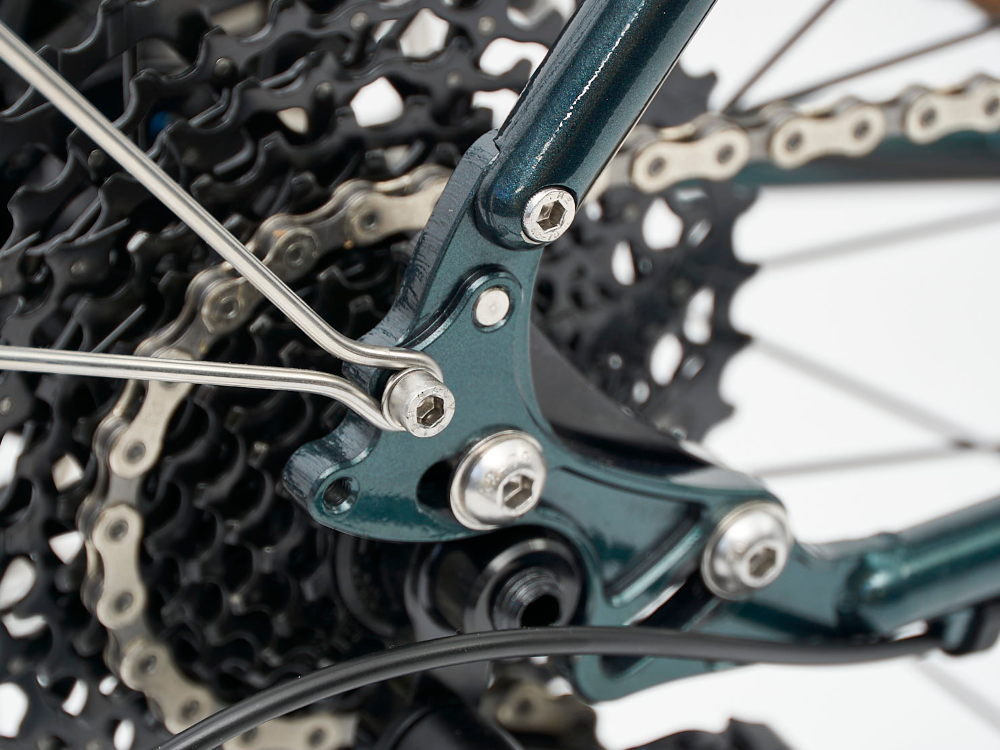 11. It can pack into a box for travel
Cargo bikes tend to come disassembled from the factory and then require extensive work to be prepped for riding and daily use. This often means getting them back into a box for travel is a nightmare. Probably every few weeks at the shop we have customers come in with awkward sized bikes looking for a carboard bike box and often it's just not possible to fit them in a box. Handmaking a carboard box often means it doesn't have structural integrity to protect the bike, and can also end up looking trashed even before you fly with it (which then in our experience makes the bagage handlers treat it even worse!).
The front tray on the Omnium is bolted on with four large hex bolts  that can be easily undone to remove the tray, to pack the bike into a box for travel. We have had working courier customers take their Omnium cargo bikes internationally for work, and also some customers just take them for touring adventures around Oz or overseas. Either way it's a good bit of peace of mind to know you can take your Omnium cargo along for all sorts of adventures. 
Are you Omnium-curious? See what we have in stock, drop by for a test ride, or give us a call to discuss the options.