Over the past few years we have massively expanded the range of cargo bikes that we sell and service in the shop. We have cargo bikes from Riese & Muller, Tern, Yuba, eZee, Gazelle and Omnium, designed for carrying both children and cargo. This category of bike is one of the fastest growing worldwide, as both the private and public sectors realise their potential to transform urban mobility and reduce dependence on cars and trucks.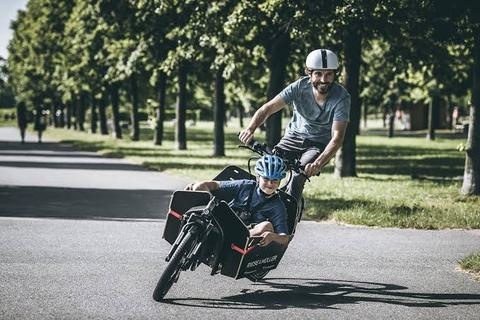 Above: Electric cargo bikes like the Riese & Muller Packster are designed for carrying people and cargo with ease.
However, they present some unique challenges for bike designers, who are working with equipment that has largely been designed for mountain biking (where riders are not carrying anything on their bike, and the bikes are often lightweight), and we see some of these shortcomings in the workshop. Our electric bike hoist gets a lot of work lifting up cargo bikes for repairs, and the reason is often problems with the brakes.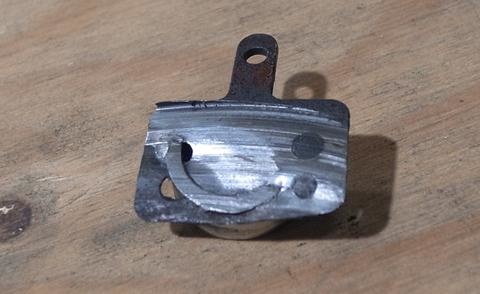 Above: Having worn all the way through the brake pad and metal backing plate, this brake was pushing the piston into the rotor!
Cargo bikes put a lot of stress on components, and nowhere is this more evident than braking systems. The bikes themselves often weigh more (because of larger, reinforced frames, plus the weight of batteries and motors) and they can carry anywhere up to 200kg of cargo. They are often used in urban areas, with e-assist meaning they can travel at faster speeds, so they need to be able to stop quickly.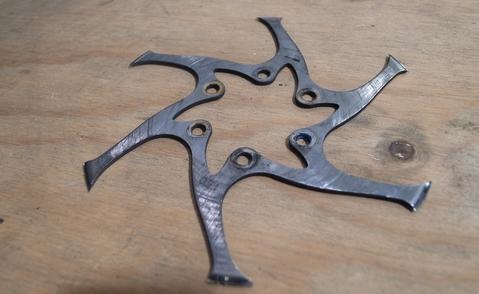 Above: This brake rotor should have an outer braking surface attached, but it's worn down and sheared off, leaving the pads braking on thin air.
So what brakes do cargo bikes come with? A minority still come with cable-operated mechanical disc brakes (and even one or two with rim brakes) but most cargo bikes will come with hydraulic disc brakes. We consider this to be the minimum safe equipment for riding a cargo bike in Sydney. We see an incredible number of bikes come in with mechanical disc brakes that have snapped cables or levers that pull all the way to the bar - cable operated brakes just aren't up to the task of reliably stopping cargo bikes.
If you're serious about safety, it's often worth upgrading the brakes on your cargo bike, even if it comes with hydraulic disc brakes. More suitable brakes will have four pistons instead of two, which increases the surface area of the pads. This increases the braking power, reduces brake fade on long descents (which is caused by heat building up in the system), and it means the pads will last longer. Metallic (as opposed to resin) pads are a must, as you'll wear out resin pads in no time.
The brakes we'd recommend at the moment are the Magura MT5, or the Shimano MT520. These will both improve the braking power of your bike, compared to standard equipment on most bikes.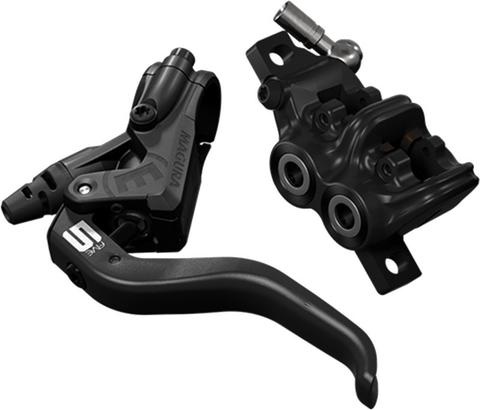 Above: The Magura MT5 brake has four pistons, which increases braking power.
Other solutions are more powerful 2-piston brakes. Many cargo bikes come with entry-level Tektro or Shimano brakes, and jumping up to the Deore or SLX brakes will result in a noticable increase in braking power. Going higher up the Shimano heirachy doesnt always result in better results though, as the XT and XTR brakes mainly just drop weight from their SLX equivalents (hardly a important issue on a cargo bike). 
Some manufacturers have been innovating in this area - Tektro has introduced brakes that use 2.3mm rotors (Shimano rotors are 1.8mm, and Magura 2.0mm). The pads for these brakes will also be thicker. We think this is a reasonable response to the increased demands of cargo bikes - watch this space for future developments.
Are you interested in upgrading the brakes on your cargo bike? Give our workshop a call on (02) 8014 4228 (option 2) and we can assist you.